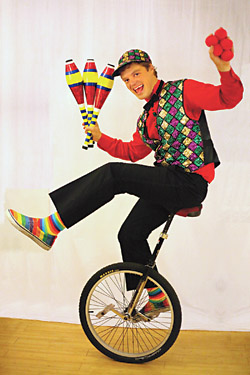 LOOK OUT!! HERE COMES JEREMY…
With his Hilarious, Spectacular, Interactive Action-Packed Act for All Ages!
Entertainment includes a zany 30-minute show with juggling,
unicycling (6-foot unicycle!), giant transforming origami, magic, comedy,
and more, often followed by roving or interaction with the
kids/adults — teaching juggling/origami or making balloon animals.
Jeremy is also a fire eater and fire juggler, and is 100% insured.
For corporate banquets, entertainment can be a stage show, and/or roving — assorted 3-minute performances at each table. In addition, roving includes unicycling around while juggling bright computerized glowballs.
Featured on Evening Magazine. Fluent in Spanish. Serving the whole Bay Area.
.
Jeremy's act often begins with a zany
three-ball juggling routine filled with all
sorts of dissappearing ball tricks and
silly humor. Then comes an array
of fast-paced routines which are selected
on the spot to best fit the particular audience
and timeframe. A few of these acts include:
"Contortionist Juggling"
"Juggling Inside a Hoberman Sphere"
"Out of Control on a Tiny Unicycle!"
"Crystal Ball Contact Juggling"
"Freddy the Juggling Frog"
"Numbers Challenge: 5, 6, 7, 8 and 9 balls!"
"Blind Juggling," "Computerized Globalls"
"Juggling Five on a Six-Foot Unicycle!"
"Karate Juggling Lesson" and various other
stunts involving volunteers
For the finale, Jeremy likes to perform his
spectacular 5-minute fire act which includes
torches, fire balls, flaming shoes, flaming
origami, flaming unicycle and fire eating.
The fire show is optional — plenty of other
acts are spectacular enough to be presented as "The Finale!"
None available currently.
RELATED ARTISTS THAT MAY INTEREST YOU